How to keep your home clean and cosy this season
As autumn draws to a close and we approach the winter months, we're preparing to spend more time in the comfort of our own homes tucked away from the cold. With the weather finally taking a turn for the chillier, now is the perfect time to prepare for the cold months ahead by deep cleaning your home to create the ultimate clean and cosy haven.
Here, Helen Bee, founder of the multi-award-winning eco-cleaning brand, Clean Living shares her top eco-friendly tips for preparing your home for the winter.
Dig out the winter duvet
With shorter days and darker mornings bringing a drop in temperature, it's time to swap out your lighter tog duvets with thicker quilts and layers of throws and blankets. After spending all summer stored in the back of the wardrobe though, your winter warmers may have developed a fusty smell, so it's likely they'll need refreshing. Squeezing thick duvets into the washing machine can be damaging and does more harm than good. The drum in domestic washing machines is often too small for duvets to circulate in, so you don't get a thorough clean. If you don't dry them thoroughly you also run the risk of mould developing in them.
Instead, we recommend using an odour eliminator to freshen up duvets. Our Biological Odour Eliminator uses unique encapsulation technology that binds and traps odours on contact, whilst its live probiotic formulation breaks them down to remove odour right from the source – keeping your duvet beautifully fragrant. Don't forget to give your summer duvet a spray too before putting it away for the winter – it'll come out smelling good as new next spring! Or take it to your local dry cleaner for a good wash.
Leave windows smear-free in winter sunlight
We all know that sunlight is precious during the darker months, and without regular cleaning, dirt, grime and pollution can slowly build up on your windows and significantly limit the little amount of daylight that will shine into your space. Particularly in the winter, smears and streaks can be easily seen when the bright winter sunlight does shine on windows, so regular cleaning will keep them looking sparkling clean. It's best to clean them during dull, cloudy days to avoid the sun leaving dry water marks on your windows and microfibre cloths are the best options for getting rid of stubborn smears. Even better, they don't leave behind any streaks or any traces of fluff or lint! For ease, our Glass Cleaner is able to dissolve grease and lift dirt, leaving windows streak free and shiny.
Fill your home with warming winter scents
Winter is the perfect time to light a scented candle to create a cosy space filled with warming winter scents. Although they may smell pleasant, the vast majority contain toxins, particularly paraffins, which are damaging to us, especially if you suffer from respiratory issues. There are a lot of natural alternatives to these harmful chemicals that will leave your house with a wonderful scent, so make the switch to natural essential oils or dried flowers for a toxic-free, natural scent. Our Biological Multi-purpose Cleaner also has a beautiful fragrance of Seductive Wood & Amber which is lovely and warming for the winter months.
To freshen up smelly pet bedding or pongy bins, eco-cleaning products like our Biological Odour and Spot Remover and Biological Bin Odour Eliminator use clever natural formulations that completely overcome bad odours by binding and trapping bacteria at source. Instead they use healthy bacteria to replace bad smells with beautiful, natural scents of Crisp Apple and Freshly Cut Lawn.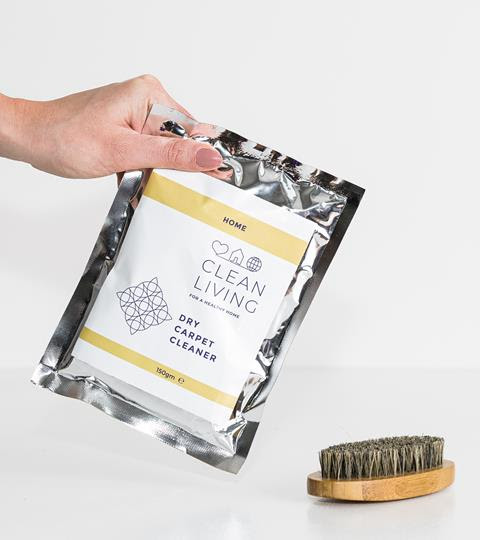 Deep clean carpets and rugs
With winter rain and muddy puddles an everyday occurrence at this time of year, there's no doubt there'll be a trail of dirty footprints (and pawprints) into the house. Now is the perfect time to give carpets and rugs a deep clean to remove any dirt and stubborn stains. A top tip is to use a firm accessory that won't damage carpet fibres like our Wooden Carpet Cleaner Brush, that reaches deep into carpets to work cleaning product and loosen dirt and grime. Pair it with our Dry Carpet Cleaner for the ultimate clean. It's made from 100% biodegradable, natural and soft-sponge like fibres that have been moistened with natural eco-friendly cleaning ingredients.
Blitz the bathroom ready for warm winter soaks
As the weather gets colder, it's only natural to keep bathroom windows closed and turn up the heat in our shower or bath to warm up cold bones. Throughout the winter, this creates more condensation and can cause a build-up of dirt and grime plus lead to mould if ventilation is poor. So it's best to prepare for those warm winter soaks with a deep clean before the temperature dips. Pay special attention to tiles and corners where grime could easily build and use our Biological Bathroom Cleaner for a natural yet powerful formula that cuts through soap residue, body fats and other bathroom grime with ease, leaving you with sparkling surfaces. Another must is maintaining your drains with our Biological Drain Maintainer. It keeps drains clear by stopping the build up of hair, grease and product residue that often clog drains up.  It's a miracle worker and a game changer for bathrooms!